Office of Information Technology
Submit a Technology Request
Departments looking to solve a need with a technology solution should submit an Office of Information Technology (OIT) Technology Request and we'll connect to discuss your need.
Submit a Technology Request
When to Initiate a Technology Request
Examples:
Identify a project management tool to purchase for your department
Identify a system to replace an existing one that is obsolete, unsupported, or isn't meeting your needs
Convert an existing space into a new classroom or meeting room with audiovisual technology
Identify to tool to manage the scheduling of shared spaces such as collaboration rooms or hotel workstations
Examples:
Purchase software to detect plagiarism or use of generative AI content
Purchase software to remediate documents for accessibility
Purchase new software or services for teaching and learning in a course
Implement a service ticket management system
Implement a chatbot
Examples:
Replace audiovisual equipment in a department space used to teach classes
Replace a system to support a Vivarium
Replace a system used by an Athletic team
Replace a business system used in sales of merchandise, tickets, or services
Examples:
External service for students that requires sharing of student email addresses
Examples:
Engage a consultant to build or upgrade a custom Filemaker application
Engage a vendor to complete document remediation for accessibility
Engage a developer to create a custom system of any kind
Technology Requests are Not Used for...
Routine refresh of single-user devices: computers, tablets, and mobile devices
Routine refresh of media technologies in support of meeting spaces
Renewal of software licenses
Addition of video security cameras, building panels, etc.
Technologies procured through research funds, which should instead follow the IT Contract Review Process
Overview of the Request Process
The OIT Project Management team facilitates collaboration between departments and OIT to manage the governance and delivery of technology solutions.
The technology request process helps departments and individuals procure technology solutions that support their needs in alignment with the University's architecture, security, risk, and compliance obligations. 

Technology Request 
Technical scope and dependencies review
Resource gaps and project costs identification
Initial security review
Initial systems integration and architecture review
Document and categorize the request for submission to IT Governance 
IT Governance
Technology Request review and approval
Sequencing of requests
Recommend budget location allocation  
Budget Review
Sequenced Technology Requests submitted to University leadership for budget approval
Once a Technology Request is funded, the technology solution will be delivered via the IT Project Process.   
IT Project Process
Creation of a project plan
Project team organization for communications and decision making
Technology assessment 
Contract, security and architecture reviews (if applicable) 
Implementation of technology solution
Often, departments trying to get new technology and systems have not had great success at implementation time, because they were not aware of:
existing alternative systems,
accessibility needs,
data security needs,
contract risks,
added integration costs, and
unexpected support requirements.
 Other departments know they need new technology to solve a problem, but they do not know how to find a good solution or what it costs.We can help you assess and identify a good
Here are some examples of technology procurement that can present unexpected problems. The Technology Request process gives you expert help and visibility early in the process, to make sure you avoid issues like these:
Buying software for teaching that is not suitable for integration into Brown's Canvas service
Hiring a developer to build a custom database that replicates a function about to be released in a University service
Signing a contract for a new system without realizing that it requires high-risk sharing of sensitive Brown data with a vendor, without suitable vendor protections in place in the contract
Investing in a large new system without considering the staffing required for setting up integrations or providing long-term administration and support
No! As soon as you can articulate the business need, fill out the form and we will talk through available technologies and next steps that would best fit your needs.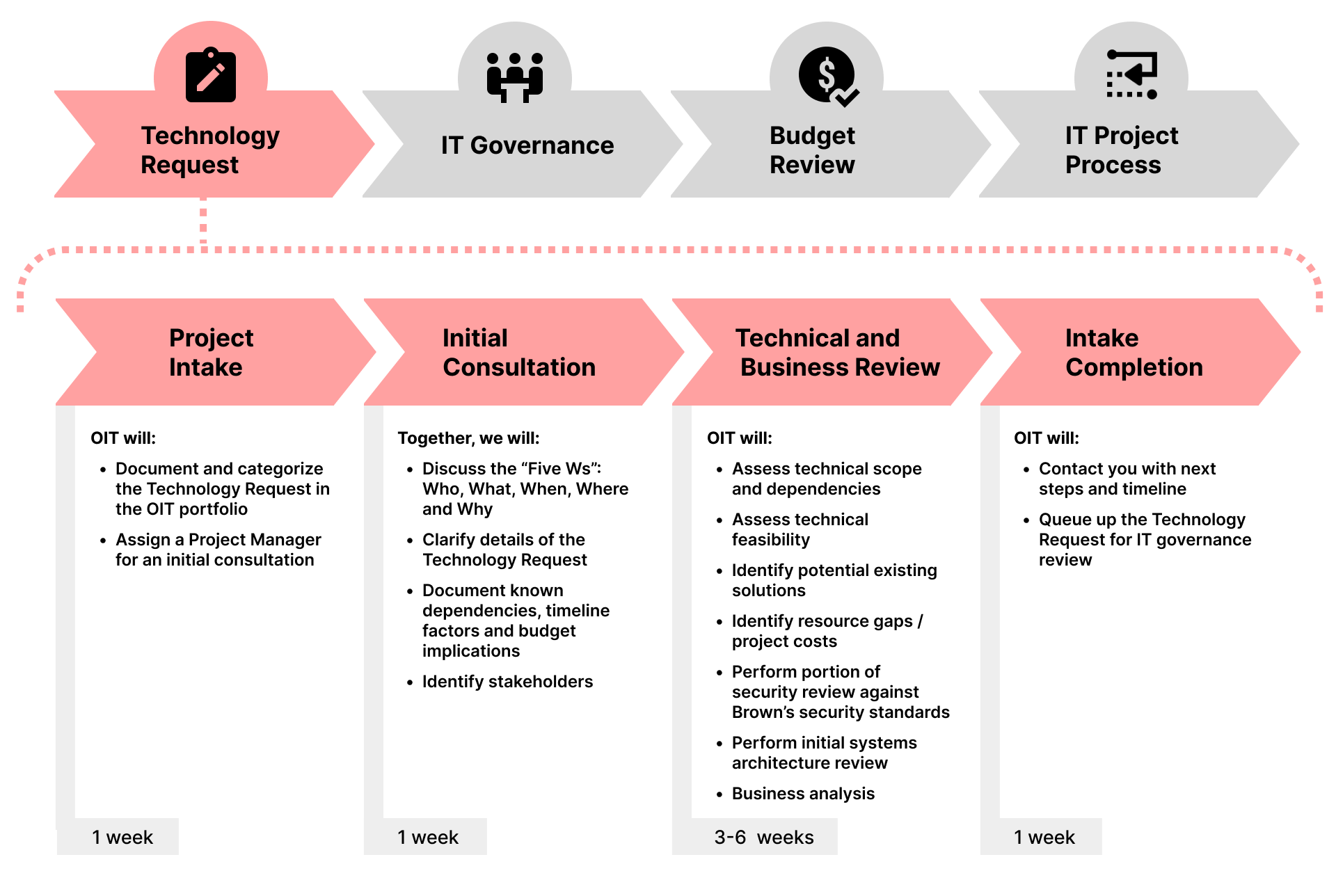 Project intake (1 week)
During this time OIT will
Document and categorize the Technology Request in the OIT portfolio
Assign a Project Manager for an initial consultation
Initial consultation (1 week)
During this initial meeting we will work with you to
Discuss the "Five Ws": Who, What, When, Where and Why
Clarify details of the Technology Request 
Document known dependencies, timeline factors and budget implications
Identify stakeholders
Technical and business review (3-6 weeks)
During this time OIT will
Assess technical scope and dependencies
Assess technical feasibility
Identify potential existing solutions
Identify resource gaps / project costs
Perform portion of security review against Brown's security standards
Perform initial systems architecture review
Business analysis
Intake completion (1 week)
During this time OIT will
Contact you with next steps and timeline
Queue up the Technology Request for IT governance review
Technology requests will be reviewed by IT governance committees and senior leaders to determine project sequencing.