Start the Month with a Short Video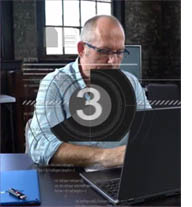 Watch Secure in Sixty Seconds, from Think Security First, welcoming you to National Cybersecurity Awareness Month, and as its host Neal O'Farrell explains, "another chance for you to stick it to the miscreants we like to call the cyber criminals."
This fast moving, six-minute video drives home the reasons for everyone to practice thoughtful and secure behavior, and includes common sense reminders, like "take control of you index finger -- danger finger", and "treat sensitive data like it's children -- it shouldn't be left alone and it can't take care of itself -- that's your job."
One caveat. It starts with a loud guitar riff, so you may want to make sure your speaker is turned down a bit. On the other hand, you can also take it as a wake-up call, and a chance to start the month with a bang!

Button, Button, Who Pressed my Button?
ISG invites you to enroll in its new "Quick Course", Secure IT: Social Engineering & Phishing (accessed through Workday Learning). We refer to it as "Button, Button, Who Pressed My Button?" because its all about those emotional hot spots the social engineers (a fancy name for con artists) press to get a desired reaction from their victims.
In five short modules, we remind you of the common sense skills you have and how to be ready to spot and stop the scammers in their tracks. The course includes an overview of social engineering, two sixty-second summaries (common cons and popular phishing ploys), plus two interactive mini-games to tag the tricksters and spot the phish.
This "Quick Course" kicks off ISG new series of "Secure IT" training modules, slated for release in the coming months. We'd not only appreciate your taking this course, but also providing feedback on it and suggestions for future courses. Send your comments to secureit@brown.edu.
Stanford University hosts this half-day virtual event focused on the security and privacy of cloud computing and open to the EDU community. Introducing the festival with a "What S'UP! (Security, You, & Privacy)", the event is about cloud computing, which...
... has made previously unimaginable computing power accessible to just about anyone. From powerful software delivered globally through a browser, to infinitely-scalable computing that's billed by the second, it's so pervasive that it now seems completely transparent. But "out of sight, out of mind" can be a life-disruptive trap. The cloud touches all our lives, every day, from social to legal, financial to academic. It's more than just someone else's data center. We all need to be mindful of evolving cybersecurity and employ safe cloud computing practices.
Learn about the unique cybersecurity challenges when doing university work in the cloud and what we all can do to deter cybercriminals from negatively impacting our lives. 
The October 27th agenda for the virtual event includes sessions on PETs (Privacy Enhancing Technologies), "The Modern Attack Landscape and its Implications for Higher Education", "Two Sides of the Information Risk Coin - Safeguarding Security and Privacy in a Digital World", "PrivSec: The New Frontier", plus an overview of Cloud Security.
Visit cyberfest.stanford.edu to register for this free event.

Other Quick Views
Phishing and Ransomware follows one hapless fellow who is tricked into clicking on a malicious download and is then confronted with ransomware.
Vishing provides an example of what could happen if you share personal or company information with unknown, unfamiliar or untrusted sources.
Data Handling is a reminder of the one best practices that each of us can apply to help personal data stay more secure – only share on a need-to-know basis.

Explore Further and Deeper
We also recommend the following LinkedInLearning courses, accessed via Workday.


OIT's Information Security Group is a proud champion 
of National Cybersecurity Awareness Month.